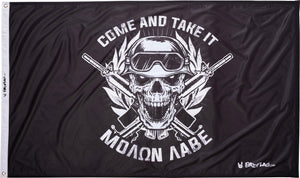 3x5 Come and Take it Flag by BadFlag. Our God-given right to defend ourselves, our families, and our country. We dare you…try to 'come and take it'!
Made with our proprietary material and construction designed to last longer than any flag out there. 

Fly your flag proudly!!
*Please note that our flags will wear with use and it's expected to need replacing over time. Our flags are not covered under any warranty.